Germany 2017 · Video Installation / Single-Channel Video Projection
HD-Video · 16:9 · B/W · Sound · 9'35"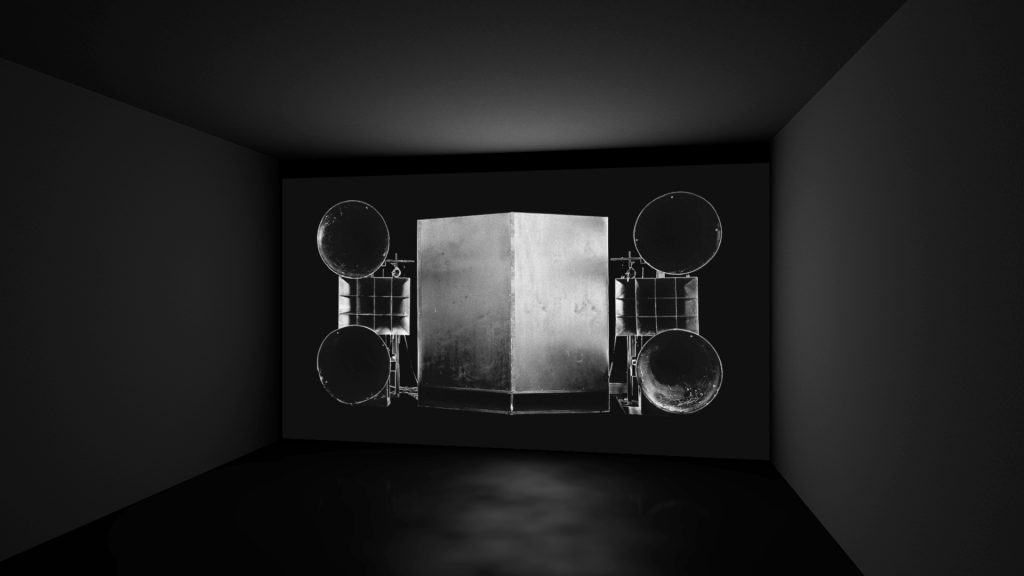 No Fear shows a recording of a historic stereo system with huge side horn speakers and an overly large bass unit in the middle that stands dimly lit in a dark room.
Echoing from the speakers is a computer-generated male voice that recites a poetic text in English language that consists exclusively of terms that always begin with the word "no": no fear, no anxiety, no truth … The terms refer to universally human, social and psychological topics, up to current day and world political problems, phenomena and discourses.
The video is shown as a large-format, single-channel projection in a darkened, black-painted room largely isolated from other sound sources.
No Fear zeigt die Aufnahme einer historischen Stereoanlage mit riesigen seitlichen Horn-Lautsprechern und einer übermäßig großen Bass-Einheit in der Mitte, die schwach beleuchtet in einem düsteren Raum steht. 
Aus den Lautsprechern tönt hallend eine computergenerierte männliche Stimme, die in englischer Sprache einen gedichtartigen Text vorträgt, der ausschließlich aus Begriffen besteht, die immer mit dem Wort "no" beginnen: no fear, no anxiety, no truth… Die Begriffe verweisen auf allgemein menschliche, soziale und psychologische Themenbereiche, bis hin zu gegenwärtigen tages- und weltpolitischen Problemen, Phänomenen und Diskursen. 
Das Video wird als großformatige Einkanal-Projektion in einem abgedunkelten, schwarz gestrichenen und von anderen Schallquellen weitgehend isolierten Raum gezeigt.
© Martin Brand, VG Bild-Kunst, Bonn 2017